Home to some of the most important historic sites in the world, Rome is an intoxicating city. Step into Italy's capital and it's easy to get swept up in the magic. From the architectural wonder of St Peter's Basilica to the iconic art housed within the Vatican Museums, this is a city with a truly unrivalled heritage.
But it's not just about sightseeing – Rome is celebrated for its irresistible authentic cuisine and breathtaking streets. Cobbled passageways, atmospheric trattorias and bustling piazzas all add to the appeal of this magical city. Whether you're planning a weekend getaway or a longer visit, this is the ideal destination to get a real taste of Italy.
If you have time during your trip you'll find Rome is perfectly placed for visiting the coast, and there are some beautiful areas of Italian countryside within easy reach. We've taken a look at just some of the best things to see and do in Rome, including the biggest attractions within the city and some leisurely day trips to the surrounding areas. 
History and architecture
Rome is filled with monuments that showcase the power and glory of its ancient civilisation. And this rich heritage is best demonstrated at the city's most iconic structure, the awe-inspiring Colosseum.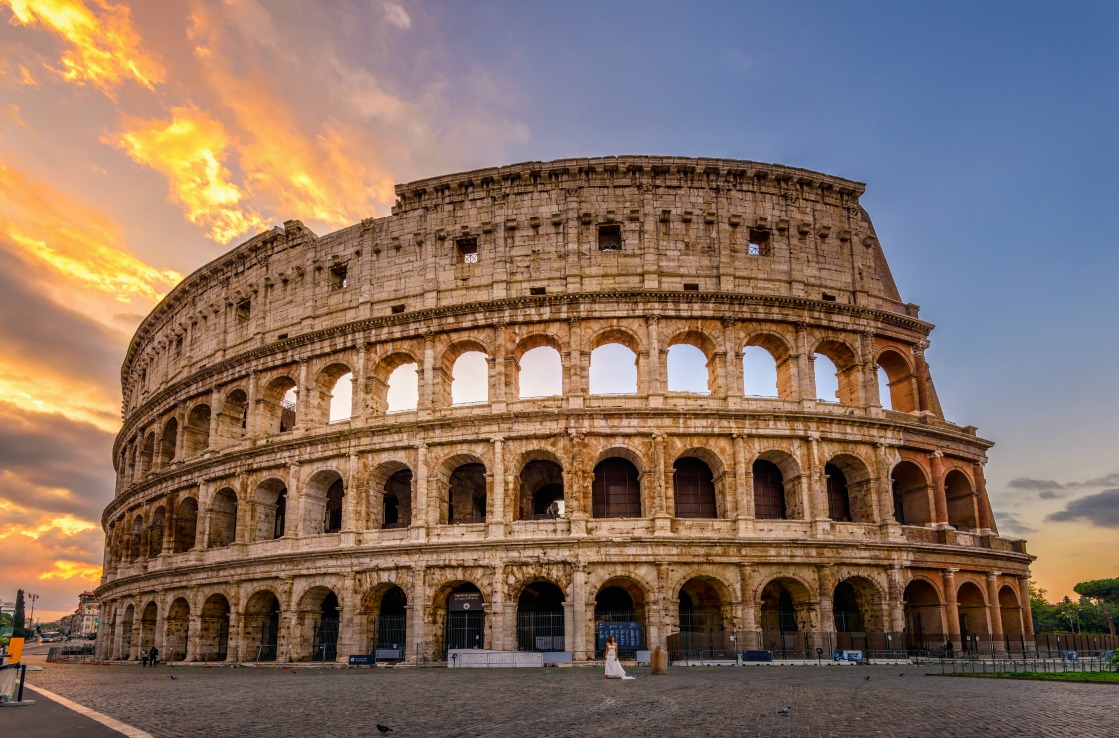 Catch your first glimpse of this colossal structure and it'll take your breath away. Before you stands the largest amphitheatre ever built, one that could once hold up to 80,000 spectators. Much of the original structure has been destroyed over time but what's left is a truly remarkable sight, with the instantly recognisable exterior housing a maze of arches, stairways and passages. 
Construction of the Colosseum was completed in AD 80 and the venue went on to host bloodthirsty events designed to entertain and intimidate the citizens of Rome, from gladiatorial battles to public executions. Today it's one of the most popular visitor attractions in Italy, so it's a good idea to reserve tickets in advance and avoid the queues on the day of your visit.
A stone's throw away you'll find the Roman Forum and Palatine Hill. Once a busy marketplace, the Forum eventually became the heart of Ancient Rome, a central meeting point and commercial area. The temples and basilicas that once filled the space now lie in ruins and make for an atmospheric stroll.
Wander through the site and spot some of its best-known sights including the Curia, the old Senate house that dates back to 44 BC, and the Casa delle Vestali, which housed the priestesses who were tasked with tending the sacred flame in the Tempio di Vesta.
Continue on from the Forum up to Palatine Hill where, according to mythology, the city was founded by Romulus in 753 BC. Striking ruins are peppered among the lush greenery but the biggest draws here are the spectacular views across this ancient slice of Rome.
Make your way deeper into the heart of Rome by heading in the direction of the Pantheon. One of the best-preserved ancient buildings in the city, this church stands on the site of a temple built 2,000 years ago. Marvel at the inscriptions decorating the front from Piazza della Rotonda, before heading inside to admire its vast marble interior and enormous concrete dome, still the largest structure of its kind in existence.
Rome's top attractions
Cultural treasures are aplenty in Rome and you'll be hard pushed to experience all its riches in just one trip – so start with the most iconic. The Vatican Museums should be at the top of your list, a place where you'll find one of the finest art collections anywhere in the world.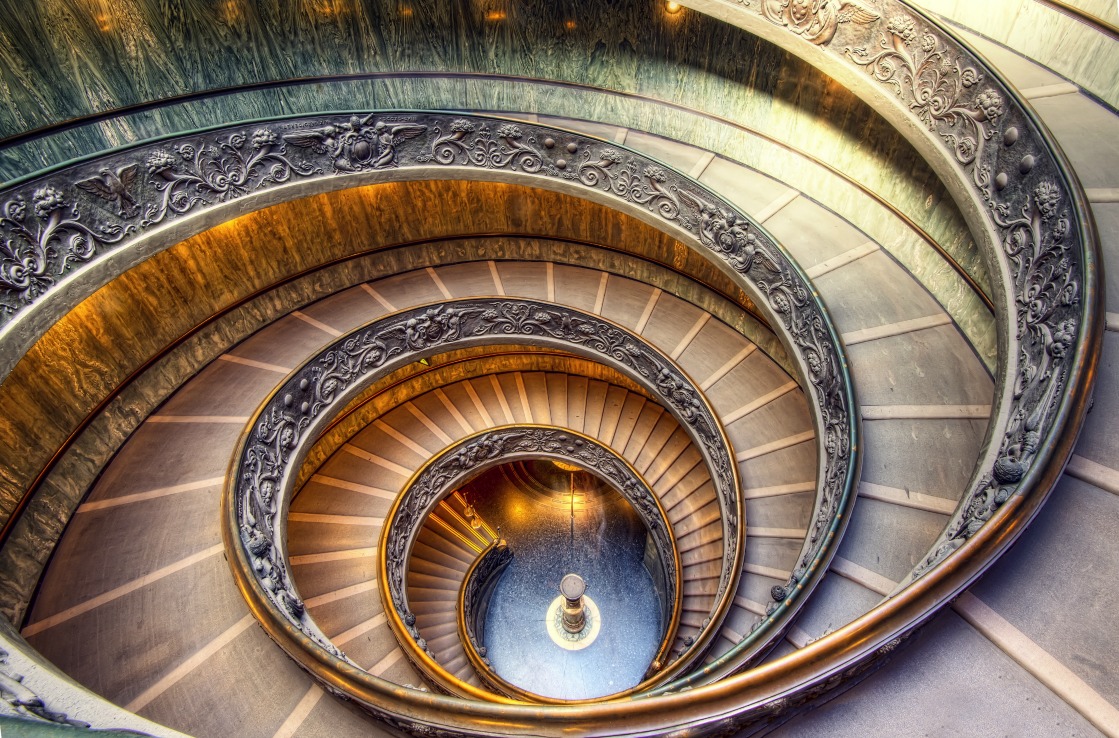 Housed within the Palazzo Apostolico Vaticano, the Apostolic Palace or official residence of the Pope, the site is so huge that it's impossible to see all its exhibits in a single day. Highlights include the Pinacoteca or Picture Gallery, a group of rooms showcasing paintings from the Middle Ages to 1800, with works by Da Vinci, Raphael and Giotto, among many others.
 lsewhere in the museum you'll find the Museo Pio-Clementino, where you can gaze at classical statues including the celebrated Apollo Belvedere. If you seek out the Collection of Modern Religious Art, you can also see pieces by Van Gogh, Gauguin and Picasso up close.
But for most visitors, the star attraction is the Sistine Chapel. Here, let your gaze turn skywards as you witness some of the most iconic works of art ever created. Take your time to explore every inch of the room, decorated with Michelangelo's colourful ceiling frescoes and his famed 'Last Judgement'.
Even once you've explored the Vatican Museums, there are still plenty more architectural highlights in Rome to see. As the home of the Catholic Church it's filled with beautiful religious buildings, but the most majestic of them all is St Peter's Basilica, a Renaissance structure found close to the museums within Vatican City.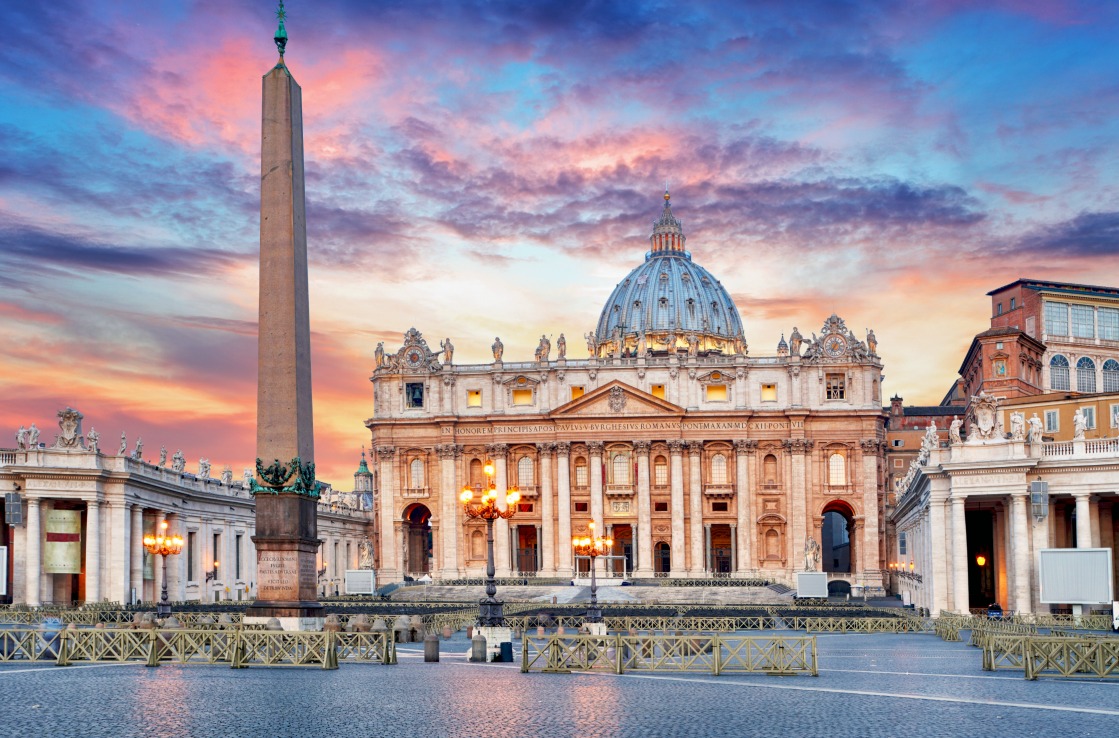 Stand in the centre of St Peter's Square and soak up the splendour of the largest church in the world. A dramatic centrepiece of the city since the 17th century, it commands attention from all around Rome.
Join the queues to enter the church free of charge – a line of people tends to snake around the square all day, so get there early if you want to beat the crowds. Once inside, take your time to appreciate the basilica's architectural beauty. Clad in marble and adorned with artistic masterpieces, with Bernini's bronze baldachin at its centre, St Peter's is a true, and enormous, stunner.
While here, it's also worth buying a ticket to climb to the top of St Peter's Dome, designed by Michelangelo. Make your way up a narrow staircase and at the top you'll be rewarded with panoramic views over St Peter's Square and Rome's red-tinged rooftops. 
Where to stay and eat in Rome
Rome's best restaurants
If all that sightseeing has left you hungry, you're in the perfect place. Rome is renowned for its culinary delights and sampling them is an all-important part of any trip to the capital. These dishes will take your expectations of Italian cuisine and knock them straight out of the park – it doesn't come any more authentic than here.
Mastering simple dishes is a common theme of Roman cooking. Sample the original, and delicious, incarnation of carbonara, with not a drop of cream in sight – just egg yolks, pecorino romano cheese and black pepper whipped up into a silky pasta dish. Creamy cacio e pepe and rich amatriciana are two others to add to your must-try list.
Wood-fired crispy romana pizza is another must while in Rome and can be found all around the city, served up by the slice or whole pie. Toppings range from anchovies and artichokes to prosciutto and sausage – any everything in between. 
One of our favourite places to feast on authentic Roman dishes is the charming Alle Carette – you'll find it tucked away down a cobbled side street near the Colosseum. For traditional trattorias, complete with red-checked tablecloths, cross the river to Trastevere. This bustling neighbourhood boasts some of the city's top restaurants, although fine dining spots are dotted throughout Rome – La Terrazza dell'Eden is one of the best, boasting panoramic views and a Michelin star.
No trip to Rome would be complete without sampling the city's famous gelato and you'll find plenty of places where you can indulge your sweet tooth. Gelateria del Teatro, on Via dei Coronari near the Vatican, offers a number of adventurous flavours including lavender and sage with raspberry.
Hotels in Rome
To really make the most of Rome's food, history and culture, it's a great idea to stay right in the heart of the city. There are endless options on offer, so we've rounded up just a few for inspiration.
The Roma Luxus Hotel offers stylish, five-star accommodation within walking distance of many of the city's main attractions. It's also a great choice if you plan to do some shopping during your stay, as it's close to areas including the famous Via Nazionale, which is lined with stores. Housed in a former convent, the hotel boasts two restaurants and a fitness centre, complete with steam room and sauna.
Another luxury pick is the First Hotel Roma, just a short walk away from Piazza di Popolo and Via del Corso. Once the palace of a 19th-century nobleman, this elegant hotel features contemporary Italian artwork in its rooms and has a gourmet seafood restaurant along with a rooftop bar where you can enjoy lunch or an aperitivo as the sun sets over the city below.
Other options for your stay include Campo de'Fiori, a boutique hotel right in the heart of the city. It boasts a terrace with stunning views and is perfectly situated if you're keen to sample the nightlife, with several trendy bars and restaurants nearby.
Hikes and walks near Rome
Rome can get busy with sightseers, particularly in the summer. Luckily there are plenty of options if you want to get away from the city centre, with some beautiful countryside within easy driving distance.
Less than an hour's drive outside the city centre is Lake Bracciano, a huge body of water surrounded by lush, unspoilt scenery. Here you can hike, explore on horseback or even enjoy watersports such as sailing and canoeing.
The lake is a peaceful environment where no motorboats are allowed, as it provides drinking water to Rome and the surrounding areas. The woodlands and meadows around the lake offer a chance to spot birds and other wildlife, and there are a trio of nearby towns – including Bracciano – where you can enjoy lunch with an espresso, cappuccino or gelato.
Just a few miles away from Bracciano lie the ruins of Monterano, an ancient village surrounded by a nature reserve of the same name. Once a Roman stronghold, it was eventually abandoned in the late 18th century following an invasion by the French army.
Today you can walk through the ruins of the former settlement, including the medieval castle and even part of the Roman aqueduct that once stood here. Elsewhere in the reserve are some excellent trekking paths where you can see a waterfall, impressive arches made from natural rock and even a sulphur grotto. 
Day trips from Rome
Rome's army of attractions has plenty to keep you busy throughout your trip. But if you want to squeeze the most out of your visit, and see more of Italy, you'll find lots of other things to do within easy reach.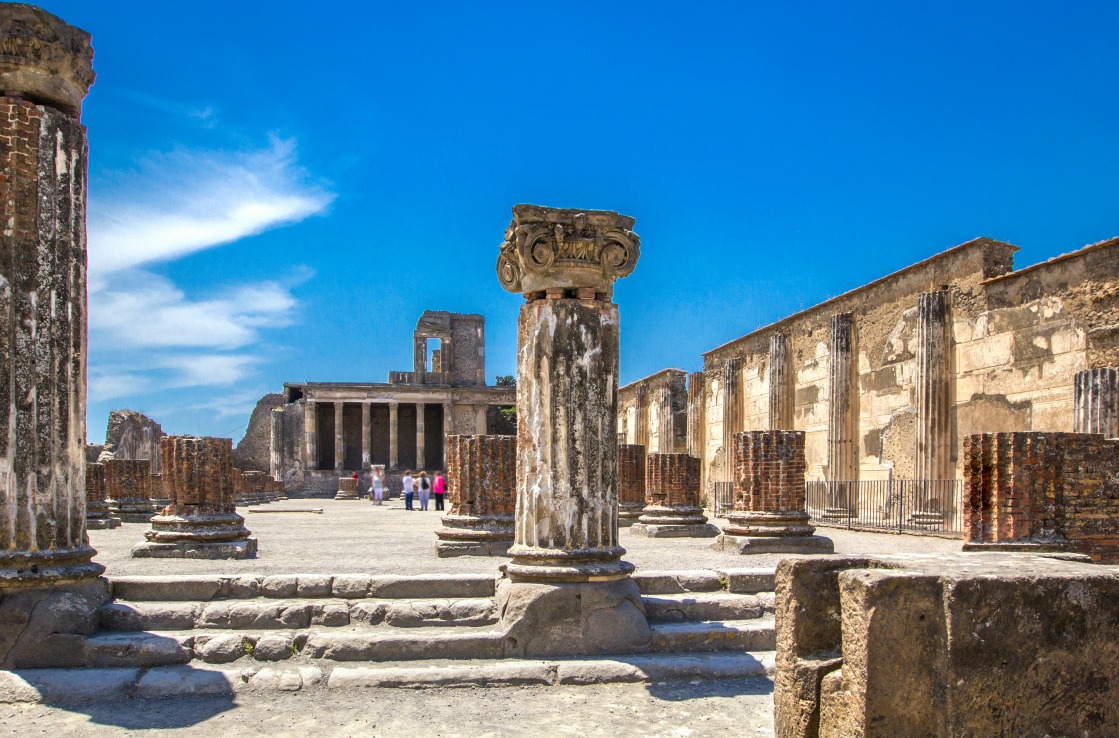 Just a couple of hours' drive south of the city lies the famous archaeological site of Pompeii, a town destroyed by a volcanic eruption in AD 79. Today you can explore the sprawling ruins, wander down the streets and see houses and temples as they stood before tragedy struck.
Many people combine their visit with a trip to Mount Vesuvius, the volcano that destroyed the city centuries ago and is still active today. Pull on your hiking boots and make your way up to the crater, where you can enjoy sweeping views of the Bay of Naples below. And don't worry – there would be at least a two-week warning if there was any chance of another eruption.
Just a short drive from Pompeii and Vesuvius you'll find Naples, a historic city with a fascinating labyrinth of caves beneath its centre. You can spend time exploring subterranean Naples before visiting some of the excellent cafés and restaurants in the city – this is the birthplace of pizza, so sampling the local Neapolitan version is a must. 
Best beaches near Rome
Rome might be well placed for visiting some of Italy's most fascinating visitor attractions, but its location near the coast means you'll also find a number of beautiful beaches within easy reach.
The closest beach to Rome city centre is Ostia, which has several private areas (known as stabilimenti) along with a large public stretch of sand where you can lay down your towel for free. Spend a day with your head in a book or take a dip in the glittering waters.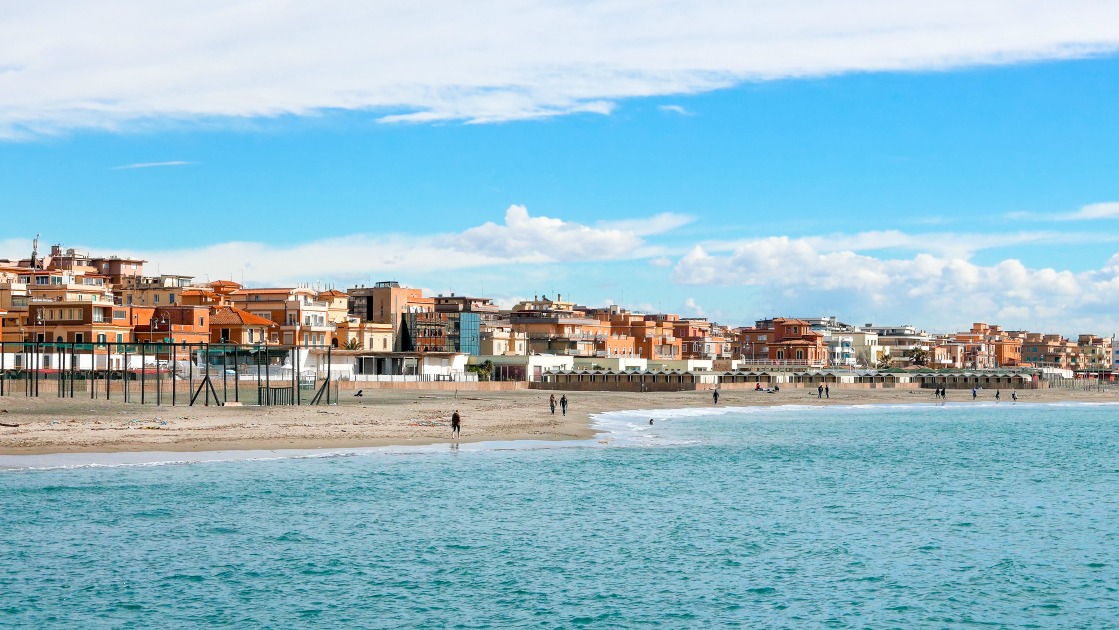 If you're looking for some lively beach nightlife, head to Fregene just up the coast, where you'll find hip bars and clubs dotted along the waterfront. Or you could head to the more peaceful resort of Santa Marinella, a small bay with clear blue waters where you can rent a sunbed or relax in one of the seafood restaurants overlooking the water.
Without doubt one of the most beautiful stretches of sand near Rome can be found at Anzio, just an hour's drive south of the city. This beach has a historic claim to fame – it was the site of a key battle during the Second World War. Much of the town has been rebuilt to repair the damage since then and it's now a peaceful fishing village popular with locals and tourists alike thanks to its fresh seafood. 
With all the excellent food, culture and history on offer, Rome is the perfect place for an Italian getaway. With car hire in Rome you can really make the most of your time in the city and even venture further afield, with all these attractions and many more within easy reach.