Prepare for sensory overload when you arrive in Italy. Everywhere you go in this famously seductive country you'll be bombarded with amazing sights and sounds. The ancient ruins and Renaissance art, the buzz of mopeds and the scent of the olive groves, not to mention the feast for the eyes and taste buds made possible by the Italians love of food.
The country is divided into 20 regions, each with its own customs, cuisine and character. Travel around and you'll spot the subtle differences, whether it's how they kick back after work or how they dress their pasta.
There are cities committed to culture and others famous for d fashion, along with miles and miles of coastline so beautiful it makes the heart ache. Make a beeline for the coast and soak up jaw-dropping views out across the sparkling sea, or thread your way through the centre of the country to discover glittering lakes surrounded by lush mountains. In Italy, the only limit is your imagination. 
Italy's top attractions
There's a reason why people travel from all over the world to visit Italy. This boot-shaped nation in southern Europe packs in so much glamour, beauty and history it's difficult to decide where to start. Perhaps with the architecture, which spans thousands of years, from modern buildings to the wonders of the Renaissance and the remnants of the Romans.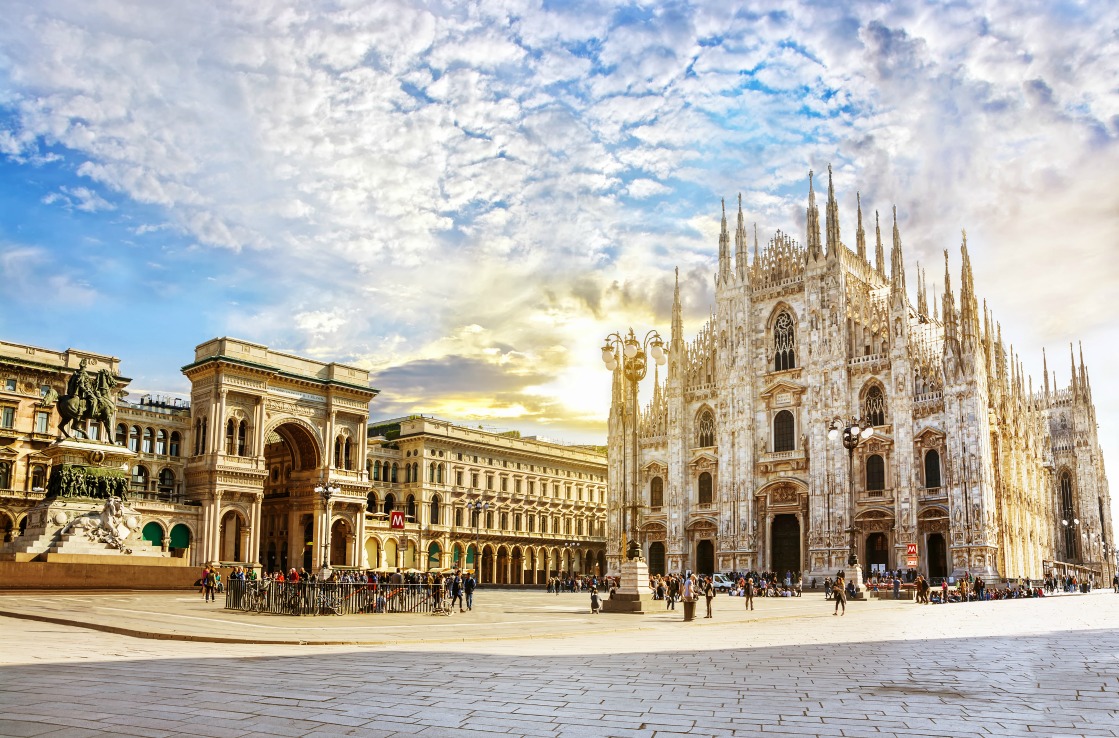 Start in Rome, the dramatic capital and 'Eternal City'. Come in high season and the streets are at their most atmospheric and packed with visitors – but that's all part of the thrill. Out of season, you'll have more time and space to contemplate the endless beauty of a place that's more than 3,000 years old. Wander along the cobbled streets and the iconic sights come thick and fast, including the Colosseum, the Roman Forum and the Pantheon.
You'll witness vast churches in most of Italy's cities, of varying beauty and decoration. Chief among them is the Duomo Di Milano in Milan, built over 600 years and the third largest on the planet. Both the interior and exterior are remarkable and awe-inspiring, boasting Gothic grandeur combined with stunning stained-glass windows and humbling altars.
By contrast, St. Mark's Basilica in Venice is a study in Byzantine style, dating back even further and being busier in detail, with cupolas and mosaics. You should also make time for Florence's Duomo, with its iconic red-tinged dome, and, off the beaten track, the astounding Cathedral of Siena with its zebra-striped marble and art from Michelangelo.
One of the most remarkable things to see in all of Italy is the Leaning Tower of Pisa. Ground was broken for the tower in 1173, but it was unfinished until 1372 and began leaning almost immediately. It reached a peak lean of 10 degrees and was closed for restoration but has since been righted somewhat. To preserve it, only 40 people can enter at once – most of them climbing the 251 steps to the very top. 
Things to do in Italy
What you do in Italy depends on the kind of trip you have in mind. Soaking up the culture of the museums, lazing by the lakes, basking on a beach or heading into the vineyards for wine-tasting – it's all possible here. With car hire in Italy you can do a bit of all of them.
Top of many must-see lists is Rome. This charming city is a cultural treasure trove, home to some of the world's most famous attractions. Amble among centuries-old ruins at Palatine Hill, climb more than 500 steps to the top of St Peter's Basilica and marvel at Michelangelo's Sistine Chapel inside the Vatican Museums – even then, you'll only have scratched the surface of this magical destination.
Head off the beaten track to uncover the true taste of Rome. Down backstreets you'll find family-run trattorias where you can feast on fresh pasta or make your way across the Tiber River to Trastevere and soak up the beauty of the neighbourhood's hidden courtyards, pavement cafes and lively piazzas. 
In Florence, birthplace of the Renaissance, you'll find what is arguably the finest gallery in the whole of the country – the Uffizi. The 16th century palazzo it's housed in is already a work of art, but once inside you'll be wowed by Caravaggio, Michelangelo, Botticelli, Rembrandt, Rubens and countless more. Such is the scale of the gallery, you'll only see a fraction of it – our tip is to check the site in advance (and to book a timed ticket) so you can plan an itinerary of what you want to see.
Make for Milan to enjoy a dose of lavish style and designer shopping. This is one of the world's most fashionable cities and you can shop for famous Italian brands before taking in a show at the Scala or seeing the much-imitated The Last Supper by Da Vinci.
Hop from one city to another with a trip to Venice. Gondolas replace cars in the City of Canals, making for fun-filled adventures largely on foot. Whether it's to cruise along the waterways towards the beauty of the Rialto Bridge or to soak up the atmosphere of St. Mark's Square, this unique part of Italy takes your breath away.
If you'd prefer to discover hidden gems of the city, find one of the more secluded but no less beautiful squares nearby. While here, enter the Gallerie dell'Accademia for a crash course in Venetian art. Highlights include Canaletto, Titian and Veronese.
Between Naples and Sorrento, on the almost impossibly gorgeous Amalfi Coast, you'll find the famous ruins of Pompeii, buried and preserved in lava when the nearby volcano, Mount Vesuvius, erupted in AD79. The preservation is incredible, as is the scale – this is a whole city – and you get a real sense of how people lived in Roman times. If the crowds here are too much, head for nearby Herculaneum. It's smaller, less busy but no less impressive. 
Where to stay and eat in Italy
The best hotels in Italy
The scale and splendour of hotels in Italy is truly mind-boggling. From humble hideaways in the suburbs to agriturismo high in the hills, there are all the boutique and luxury options you could ever want. There's something for all budgets too, with high-end hotels contrasted with affordable rooms in renovated palaces and convents.
At the top end, with a price to match the view, Gritti Palace in Venice is not just one of the best hotels in Italy, but in the world. It sits on the Grand Canal with a view of the tremendous Santa Maria della Salute Church. The Bulgari Hotel in Milan matches this splendour, found inside a former 18th-century Milanese palazzo. With the city's top shopping street just moments away, this luxurious retreat is the perfect place to rest weary feet.
For a fraction of the price, the Room Mate hotel group has started to expand into Italy. The Giulia in Milan and the Luca and Isabella in Florence all boast great locations, quirky décor and zeitgeisty style. Each one has a unique flavour and more character than the usual chains.
If you're staying in Rome, you can opt for one of the central tourist areas or one of the cooler districts. At Buonanotte Garibaldi in Trastevere, you can escape the hustle and bustle and unwind after a day of seeing the ruins by relaxing in a courtyard alongside orange trees. There's only a handful of rooms in this place owned by an artist and it achieves the serenity you'd imagine an artist would need. The area is perfect too, with out-of-the-way bars and cafes but still only a short distance from the sights of Vatican City. 
Italy's best restaurants
What you eat in Italy depends very much on where you go. Every region is proud of its own food culture, with different specialties, closely guarded recipes and ingredients that can only be produced in certain areas.
Pizza is sensational throughout the country, of course, a world away from that recreated in restaurants across the world. For the very finest, go to Naples, where the Neapolitan pizza was invented. They're usually simple affairs, dressed with tomato sauce and mozzarella, and fresh from the wood-fired oven. Join the queues for the best at L'antica Pizzeria da Michele, or perhaps Sorbillo, open since 1935. 
For the cream of risotto, look no further than Lombardy, Milan in particular. While there are plenty of varieties to try, the classic is Risotto alla Milanese, given a yellow hue with the addition of fragrant saffron, dressed simply with parmesan cheese and sometimes bone marrow.
Even rival chefs covet the risotto at Trattoria Masuelli San Marco close to Piazzale Martini. They start with a stock made of five different varieties of meat before cleaving close to a recipe they've used since opening in 1921. They also do superlative beef cheek in Barbera wine and Milanese veal tripe.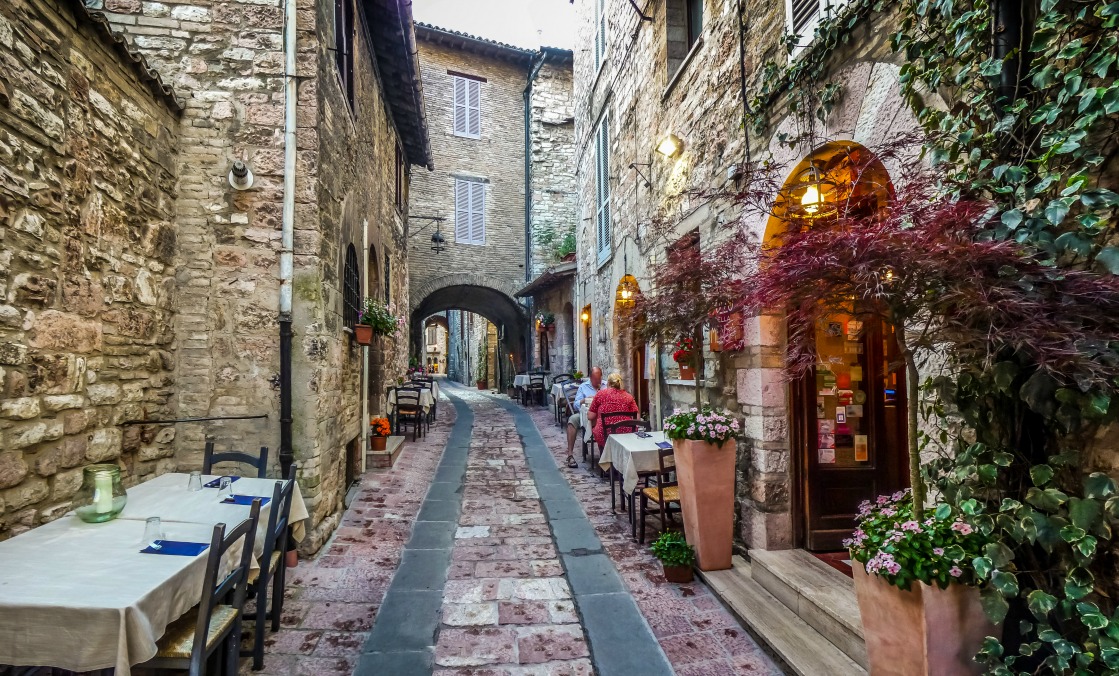 Pasta sauces vary by region too. For pesto it's Liguria and for Bolognese it's Bologna in Emilia Romagna. The best kept secret? You'll only find spaghetti Bolognese on menus aimed at tourists. The real ragu alla Bolognese is always served with tagliatelle, as it is at the traditional Trattoria Anna Maria. Here, the meat sauce is simmered for eight hours for real depth of flavour.
You can eat brilliantly at unpretentious and inexpensive restaurants across Italy, but you can also eat extravagantly too. In Modea, a place best known for balsamic vinegar and Ferraris, you'll find Osteria Francescana, previously voted the number one restaurant in the world and holder of three Michelin stars. The contemporary Italian food here is playful, light, amusing and dazzling both in conception and execution. The Five Ages of Parmigiano Reggiano dish is a modern classic, although every dish is a work of art. If it's the last place you eat when you visit Italy, it couldn't be a more fitting arrivederci.
If you'd like to find out more about Rome, check out our handy travel guide.