Trentham Country Escape - 3 Day Itinerary
Trentham is a quaint town, nestled in the Wombat State Forest, halfway between Daylesford and Woodend. Its character-filled main street is jam-packed with paddock to plate restaurants, bakeries making award-winning sourdough and historic pubs. The surrounding area is lush, dense forest and features an occasional potato farm. It is a very restful location, and the journey to and fro is part of the fun.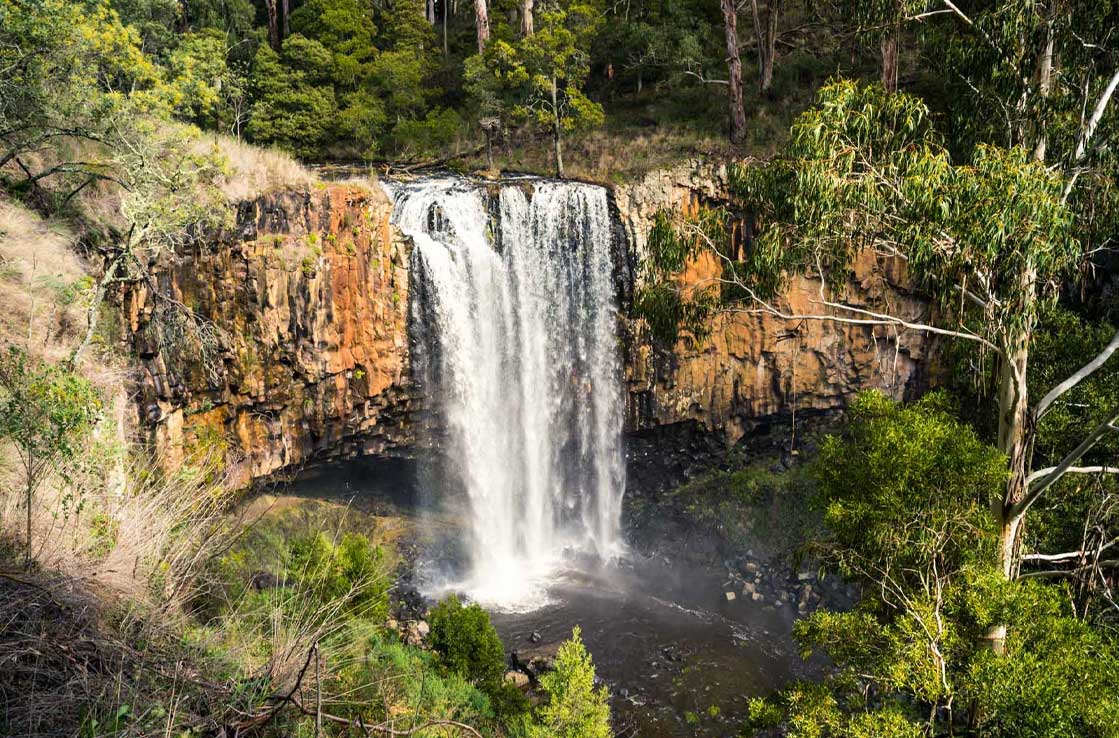 Image credit: Trentham Falls | Daylesford Macedon Tourism
Day 1:
Mt Macedon/Woodend
There are three ways to get to the Daylesford and Macedon Ranges region. Today, drive along the quickest route, the Calder freeway. Don't worry; you'll be able to make the most of your trip, and slowly wind your way home, surrounded by the dense Blackwood forest.
Take the exit after Gisborne, toward Mount Macedon. This is the large, heavily treed mountain to your right. It has a small population and is best known for its avenue of honour and collection of 19thcentury gardens with extravagant homes. Pass by, or visit gardens such as Tieve Tara, Forest Glade and Stephen Ryan's Dicksonia Rare plants nursery. You can also take a slight detour to Mount Towrong Vineyard and Cellar Door. They have some interesting Italian varietals and Mountain Distilling gin. Continue to the top and take the short stroll to historic Memorial Cross. The views are breath-taking, and you can see for miles on a clear day. Facing out to your west, you will see Woodend village, a great spot to stop for a bite to eat.
Woodend, with its mix of cafes, stores and pubs, warrants its own three day stay. Take some time to stroll along High Street. You're likely to pass the Woodend General which is a great store to collect a memento. Sample some craft beer at Holgate Brewhouse, grab one of the best burgers in country Victoria at Super Lekker or enjoy the sunny beer garden at The Victoria Hotel. Finish by treating yourself to the famous vanilla slice at Bourkies Bakery.
It's now time to head toward Trentham, less than 20 minutes away, to check in at Acre of Roses luxury accommodation. Acre of Roses is a micro flower farm and the perfect base to explore further or retreat entirely. Wander through the heady rose bushes, chill in their hanging chairs or even take a soak in their heated cedar hot tub.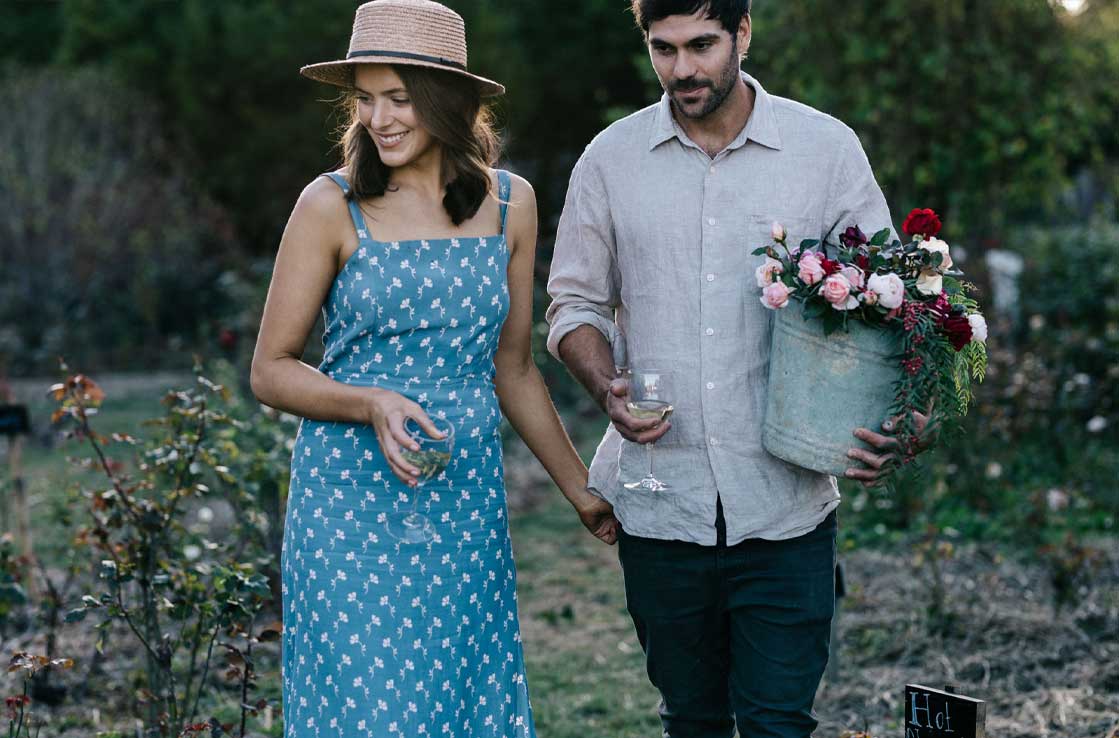 Image credit: Acre of Roses | Daylesford Macedon Tourism
Day 2:
Trentham
Nearby Trentham may be a wanted distraction from the decadent comfort, or maybe not. If you are prepared to get out and about, we would recommend a picnic at nearby Trentham Falls, pumping natural mineral water at the Lyonville Springs, and taking a hike along the historic train line between Lyonville and Trentham, known as the Domino Trail.
In Trentham village, you will discover historic RedBeard, and their sourdough and baked goods. Find timeless wardrobe staples for everyday casual living at Frankie and Mae. The Green Store is a great place for sustainable homewares, body products and even myotherapy or massage treatment. No trip is complete without dinner at The Cosmopolitan Hotel, which is an institution in these parts and has one of the best beer gardens in Victoria. A short trip toward Daylesford takes you past the quirky Radio Springs Hotel, Lyonville, which has great food. Go a little further and meet Phillip Edwards at the Bullarto Gallery. Phillip is an incredible water colour artist and well worth checking out, or attending one of his workshops.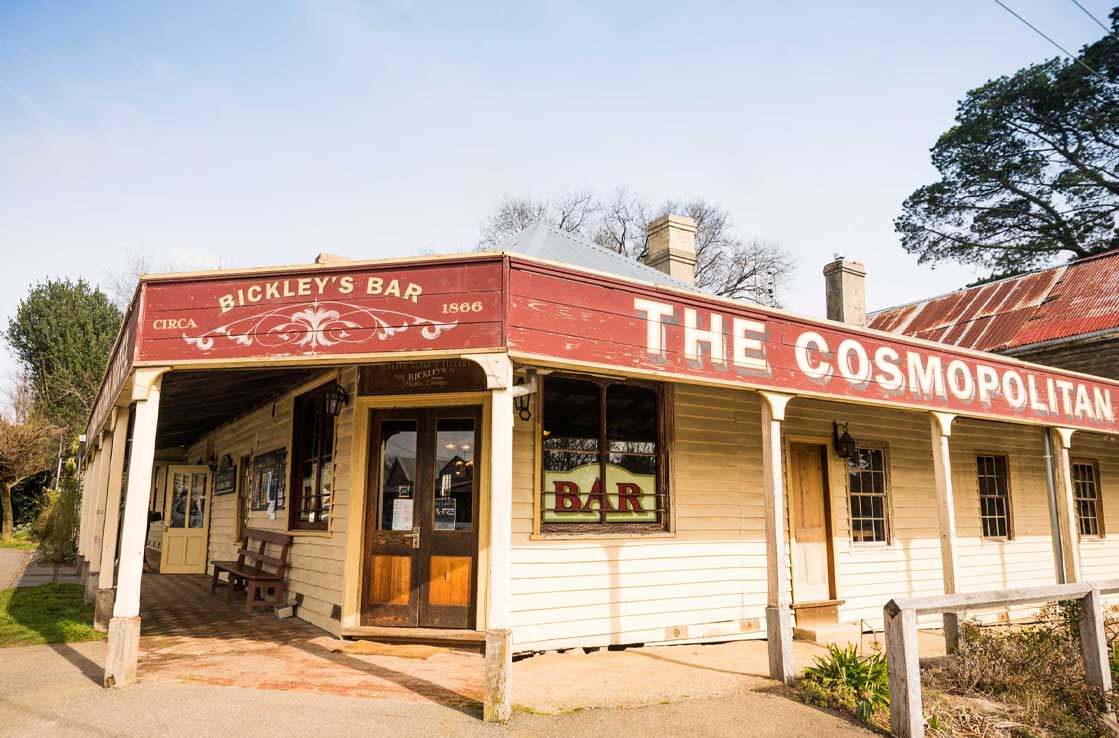 Image credit: Cosmos Hotel | Daylesford Macedon Tourism
Day 3:
Blackwood
It's time to start your return trip, and the journey through the Lederderg State Park, via Blackwood, is tranquil and captivating. The gardens within are a sight to behold. Blackwood Ridge, Frogmore and Diggers Garden of St Erth are little oases amidst the tall forest. Grab a coffee and a bite to eat at Martin Street, Blackwood, and enjoy at the picnic area, which is also your last place to pump some of healing mineral water before driving home and returning to Hertz.
For more travel inspiration throughout Daylesford and Macedon Ranges region click here.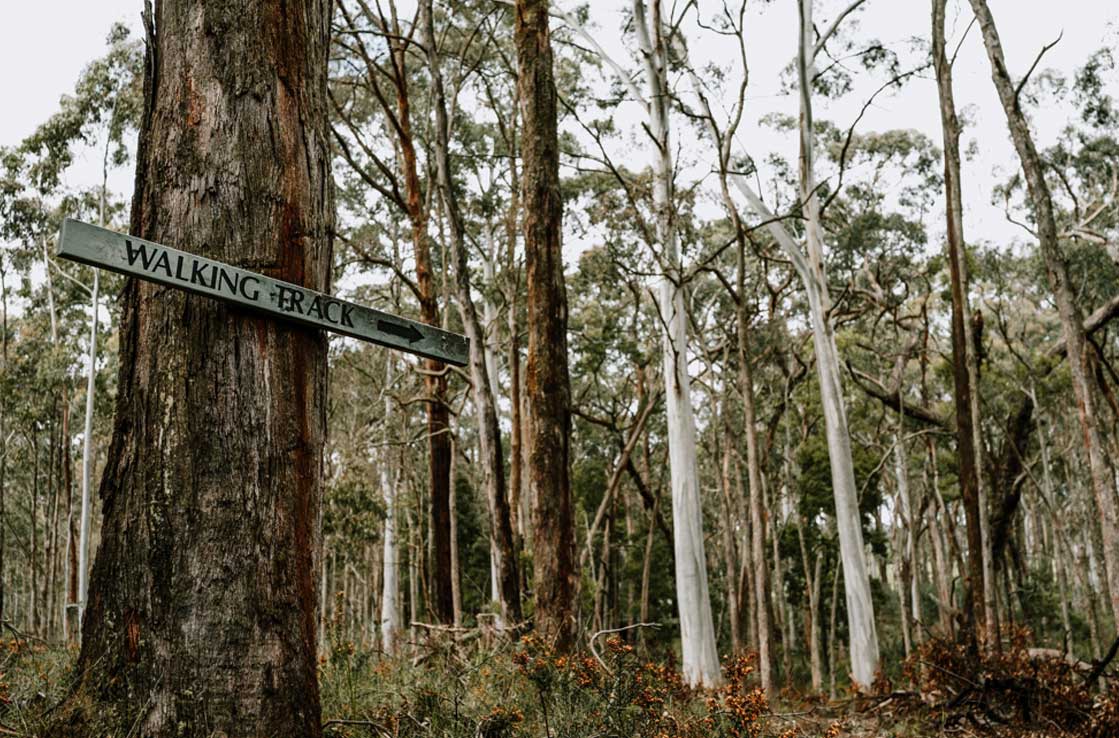 Image credit: Domino Trail | Clair Dewort | Daylesford Macedon Tourism