Explore the essence of the Australian Outback at
Uluru
/Ayers Rock
. Visit the red centre and experience the rugged terrain, vibrant colours and scenic surroundings of the Outback. Scenery, history, culture, a differentperspective–all foundin Uluru.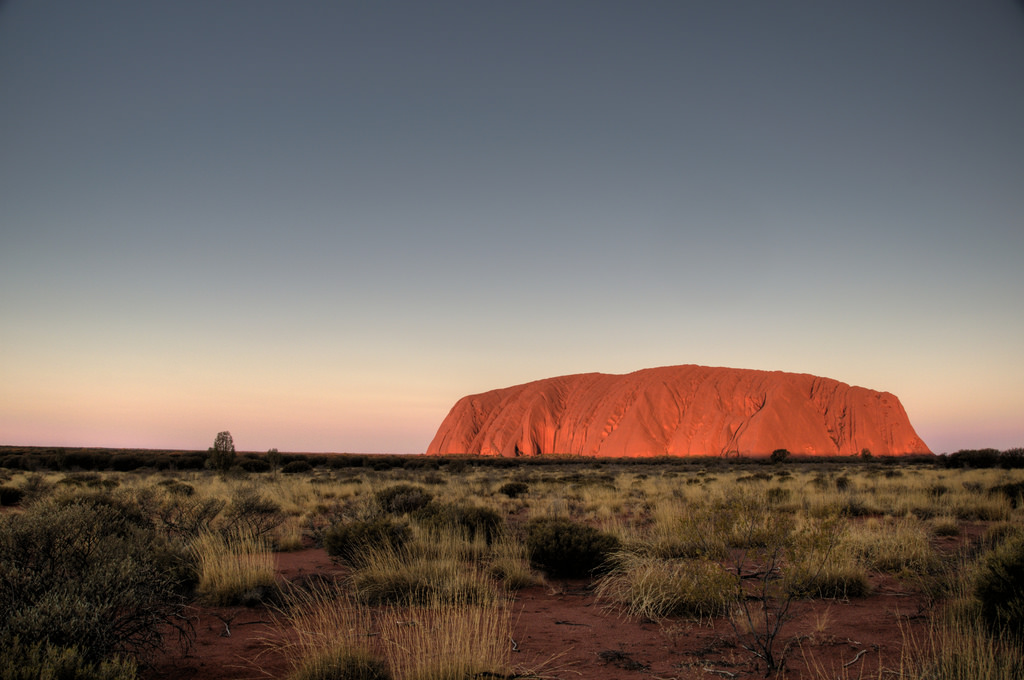 Must-Dos
Uluru
This incredible natural monument is over 300-million years old, believed to be formed by the spirits of Aboriginal Australian ancestors. Located in Uluru-Kata Tjuta National Park, Uluru is sacred to Australian Aboriginals; exploring the cultural history of the region is an essential part of visiting this site. Visitors are asked to treat Uluru with respect (climbing is not permitted) and are welcome to explore the 10km path around the structure.
Caves and Art
Along the walking trails, keep your eyes peeled for various pieces of historic rock art, mainly located in the caves dotting your pathway. Several rock shelters on the Mala Walk and Kuniya Walk to Mutitjulu Waterhole are known to have ancient art scattered throughout.
Mala Walk
This is one of the most popular walks near Uluru. The trail takes you along caves used by the Anangu people not long ago, strewn with ancient rock art and extending onwards to Kantju Gorge. The journey is about one-hour return (2km long). This walk is great to do as sunset approaches and the natural landscape grows ever-more vibrant.
Kata Tjuta on the Walpa Gorge Walk
Within the Uluru-Kata Tjuta National Park, a destination that will never disappoint is Kata Tjuta (The Olgas). The attraction has 36 rounded structures and is considered a sacred site. The 2.6km walk takes you through rare Australian flora and fauna on a mild track.
The Valley of the Winds Walk
A three-hour walk with views well worth the journey. Two lookouts along the walk give you a great spot to admire the Kata Tjuta formations. If you venture along the entire trail, you'll find yourself in a peaceful location with almost no one around. This trek is a bit challenging, so don't forget your sunscreen, hat, and most importantly, water.
Sunrise on the Desert
Rise and shine with the sun in an inspiring experience in the wee hours of the morning. Join one of the Uluru Sunrise Tours or head to one of the designated areas in the national park that are known to have epic views (especially Kata Tjuta Dune that silhouettes Uluru against the sun).
Cultural Centre
The Cultural Centre is a great starting place for any adventure. Here, you can learn about how to best plan your trip (however long your stay may be). After getting some local advice, browse the art galleries, take a guided tour, shop for souvenirs or grab a bite to eat.
Camel Rides
The early pioneers used camels for travel, and so can you. Embark on an adventure across the desert at your leisure atop one of the most majestic creatures in Australia.
Star Gazing
The Australian Outback is one of the best places to spend your time under the stars. Various tours will take you on a journey beneath night's blanket, exploring ancient myths, planets and star arrangements.
Yalara
About a 20km drive from Uluru, Yulara is a small town just north of the national park and a convenient location to stay, eat, and explore. You'll find a resort, several hearty dining options, and a selection of fine dining experiences in the outback.
Alongside these adventures, you can go on helicopter rides above the Red Centre, take various tours circumnavigating Uluru, attend Anangu dance and theatre performances, embark on guided culture and history tours and more. For an up close and personal adventure of Uluru and Kata Tjuta, hire a Hertz car from Ayers Rock Airport and explore at your own leisure.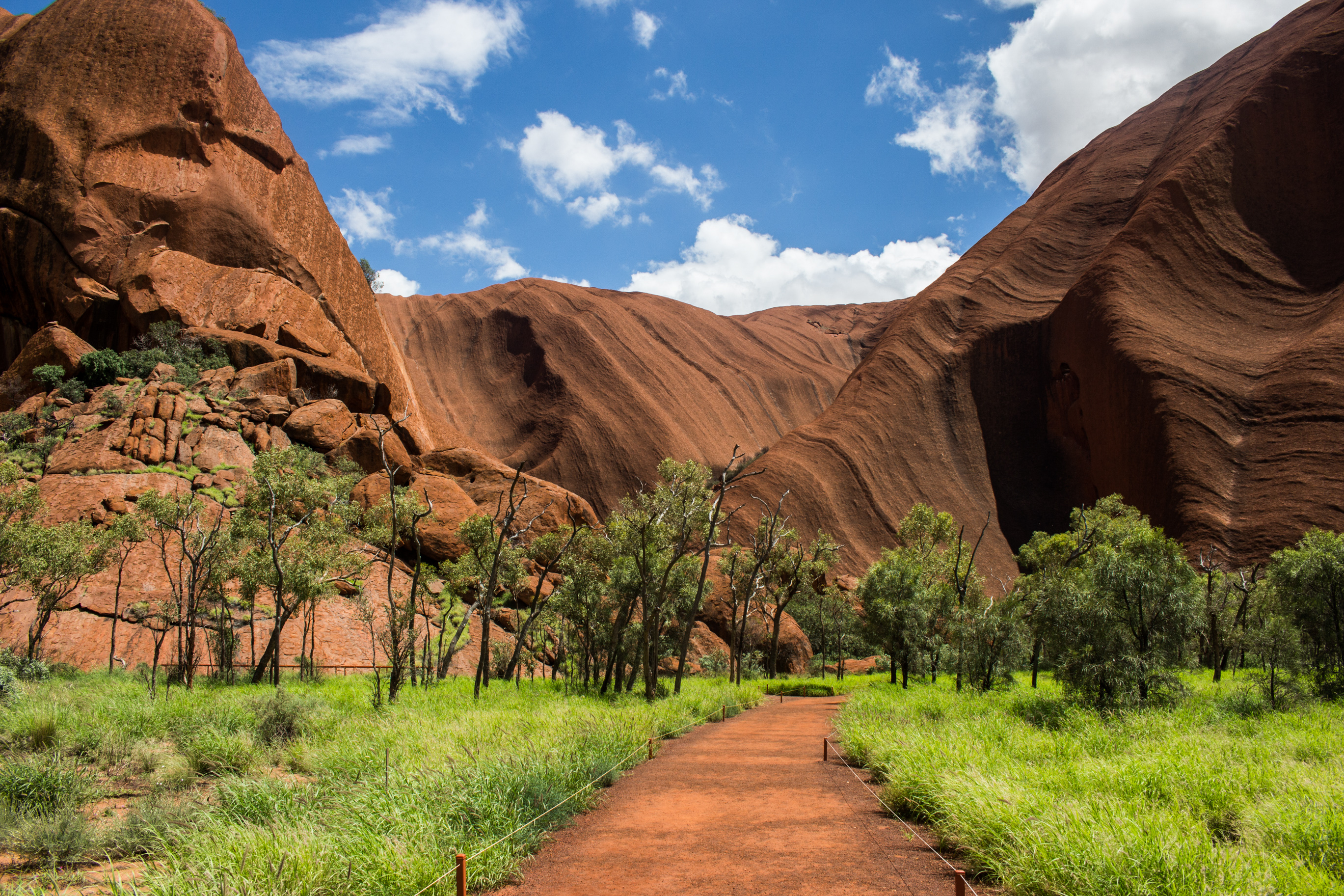 A Bit Further
If you have more than a couple days, venture onwards to one of these locations (or make it a round trip) to indulge in the natural splendours of the Northern Territory. Each destination offers a unique experience of the Australian Outback and the history behind early Australian ways of life.
Kings Creek Station
Drive 3-4 hours north/northwest of Uluru and you'll reach Kings Creek Station. Relax in a safari cabin or set up camp for a few days to explore the outback and surrounding wildlife. Nestled at the foot of George Gill Range, swimming, walking trails and campgrounds (as well as camel burgers) are easily accessible. Explore the desert by quad bike, helicopter or 4WD. Kings Creek Station was founded by Ian and Lyn Conway in 1981 and has served as a comfortable abode for tourists ever since. Kick back and enjoy the unique atmosphere until you feel the urge to explore further – the epic Kings Canyon is only 36km away, so hop in your car and head to the next destination.
Kings Canyon
Just a few hours from Uluru (and a stone's throw from Kings Creek Station), Kings Canyon boasts natural formations of epic sandstone proportions in the Watarrka National Park. With walls over 100 metres high, ancient red rocks rise above the dense forests of palm trees. Journey through one of the various walks in the National Park; the 3-4-hour (6km) Kings Canyon Rim Walk is often frequented by visitors. The pathway leads you to the Garden of Eden, an exotic waterhole surrounded (surprisingly) by lush plant life.
For those who are up for more of a challenge, the Giles Track connects Kings Canyon with Kathleen Springs across a 22km trail. An adventure that requires less exertion is the Kings Creek Walk beginning at the base of the canyon. You'll still get to see lush flora and fauna and an abundance of wildlife but with a shorter return time (only 2.6km). Marked as a conservation area, the Luritja Aboriginal people have also called this region home for over 20,000 years.
After a day of exploring you won't want to pass up the "Under A Desert Moon" dining experience (detailed below).
Alice Springs
From Uluru, a 6-hour drive will land you in
Alice Springs
, the metropolis of central Australia. Alice Springs is surrounded by incredible desert sands and stunning national parks. Nature's contrast won't disappoint even the most seasoned of travellers.
In town, check out Anzac Hill. Built in 1934, this is the most frequented attraction in Alice Springs. Climb to see the stunning views of the city and its surrounds while learning a bit more about Australia's history. Don't forget to stop by the Telegraph Station Historical Reserve, the Reptile Centre and the Kangaroo Sanctuary to learn about and care for a few cuddly creatures.
For an authentic artistic experience, visit the Albert Namatjira Gallery or the Yubu Napa Art Gallery where Australian Aboriginal paintings will be made in front of you. The Sounds of Starlight Theatre is an absolute delight if you're keen to expand your knowledge of the Indigenous culture.
Visit the town markets every Sunday on the bustling Todd Mall and then go for a stroll in the Olive Pink Botanic Garden with over 500 Central Australian plant species and a leisurely climb up Meyers Hill.
Outside of town (just a 2.5km bike ride) venture to the Alice Springs Desert Park. The exhibits are mainly open-air and feature a series of habitats (sand country, woodland, inland river, etc.). Join a free ranger-led talk to learn more about native Central Aussie animals and their unique habitats.
The MacDonnell Ranges sit to the east and the west of the town centre. The West MacDonnell Ranges have a variety of hikes that bring you deeper into the wilderness. The Larapinta Trail is a challenging but popular hike among well-prepared and relatively experienced travellers. Explorers can also camp on a number of sites (both with and without facilities). Ellery Creek Big Hole, Redbank Gorge, Ormiston Gorge and Serpentine Chalet are just a few of the various destinations.


The Good Stuff
During your Central Australia travels, feast on traditional Aussie meals and experience iconic dining experiences within the Outback. One of the only places around Ayers Rock is the café at the Uluru-Kata Tjuta Cultural Centre. For most places to eat near Ayers Rock, Yulara has a wide variety of restaurants to choose from:
Sounds of Silence Ayers Rock Resort
With a panoramic view of Uluru and Kata Tjuta, dine in the desert with a gourmet menu, a traditional dance performance and unforgettable sunset.
Tali Wiru
Fine dining and elegant food selections with a cultural twist. Indulge in champagne, canapes and a four-course meal that incorporates traditional Indigenous flavours. Enjoy your meal with a top-notch view of the Outback.
Ilkari
At the Sails in the Desert Hotel is famous for its fine dining experience. Their three-course buffet will appease the hungriest of travellers, boasting a menu with sashimi, seafood, roasts, Asian dishes – even a chocolate fountain.
Geckos Cafe
A buzzing atmosphere with a comfortable courtyard and friendly vibes. Eat in or takeaway at this licensed venue while chowing down on a kangaroo burger, pulled pork sliders, pizza or a variety of gluten-free and veggie options. Hearty meals can be complemented with sangria or a casual bevvie.
Outback Pioneer Barbecue
For a laid-back night out, this local tavern is home to a menu of delicious comfort food, communal BBQs if you please, and an easy-going atmosphere.
Kings Canyon
At Kings Canyon Resort, be sure to make a reservation with the "Under A Desert Moon" dining experience. Available every Monday, Wednesday, Friday and Saturday, start the night off with a glass of sparkling wine. You'll then be whisked away to a hidden location where your table sits under the stars by the warmth of a bonfire. The five-course meal never disappoints.
Alice Springs

Piccolo's Café
With the best coffee in town, get a good feed in the morning before setting out on your next adventure. Popular with the locals, this café is known for its tasty toasties and breakfast rolls.
Red Ochre Grill
A robust menu of local meats and bush food (think kangaroo and emu) paired with native herbs and produce. This venue normally always has a great deal on offer, so keep your eyes peeled.
Loco Burrito
Fresh, fresh, fresh. Known as one of the best joints in town, the dishes are made with ingredients from the finest local suppliers. They take pride in having some of the best food in town – try their burrito and you'll quickly see why.