< Back
Featured Offers

Our new mobility rental fleet, giving you the freedom and flexibility to get around.
Exceptional wheelchair user comfort, space and visibility

Wheelchair access at the rear of the vehicle plus 5 passenger seats
Easy to use and operate with demonstration provided by Hertz staff
All vehicle conversions comply with all Australian Standards
Wheelchair access vehicles are available upon request in Melbourne, Sydney, Brisbane, Perth, Adelaide and the Gold Coast.
Please call 1800 801 122 to make a direct booking.
Access from the rear of the vehicle.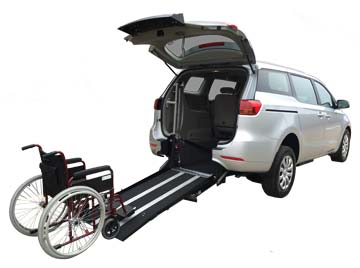 What are the overall specifications of a Hertz/Automobility wheelchair access vehicle?
Vehicle Type
Kia Carnival

Wheelchair access from the rear plus 5 passengers (including Driver)



Wheelchair size
Width – up to 750mm,

Length – up to 1300mm

Wheelchair occupant

Total weight (wheelchair and occupant) – 300kg
Dimensional limits
Entry height 1430mm,

Internal clearance 1500mm

Width of wheelchair space – 800mm
Ramp information
Aluminium ramp with spring assistance – approx. 3kg force to lift

Ramp angle – 12 degrees

Locking mechanism – 2 stage locks on each side

Ramp release – centrally mounted handle
Wheelchair restraints
Front – Electrically operated units

Rear – Manual over centre latch units