Home > Car Collections > Adrenaline Collection > 2016 Shelby GT-H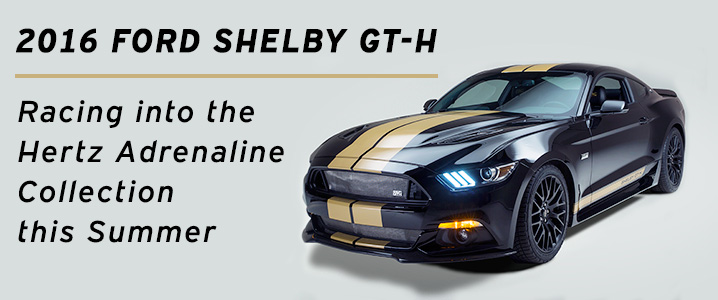 50th Anniversary Edition Ford Shelby GT-H
A Tribute to a Classic
Fifty years ago, Ford Motor Company, Shelby American and Hertz teamed up to introduce the 1966 Shelby GT350-H – kicking off what was known then as the Hertz "Rent-A-Racer" program. To celebrate 50 years of the famed Shelby GT350-H "Rent-A-Racer," the three iconic brands have partnered again to create a special run of performance-modified 2016 Shelby GT-H vehicles. Beginning this summer, a limited number of 2016 Shelby GT-H vehicles will be available for rent exclusively through the Hertz Adrenaline Collection at select U.S. airport locations.
The 2016 special edition Ford Shelby GT-H marks another Hertz car rental milestone in offering high-performance and specialty vehicles throughout the company's history, and today through its Adrenaline, Dream Cars and Prestige collections.
Stop Dreaming & Start Driving this Summer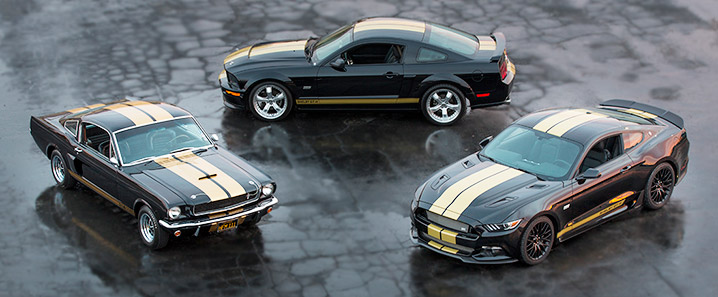 Hertz locations offering the 2016 Shelby GT-H
*This list is subject to change.
50 Years of Style
The 2016 Ford Shelby GT-H is instantly recognizable with several styling enhancements that celebrate its heritage.
Each Shelby GT-H wears black exterior paint, set off with gold racing stripes, a hallmark of the Hertz brand dating back to the 1920s.
Shelby's traditional "Le Mans" dual racing stripes are combined with a set of rocker stripes that include special "Shelby GT-H" nomenclature.
Each car sports a Hertz Edition emblem on the front fenders, and features Hertz Shelby GT-H sill plates and a numbered badge.
Special badges appear in the front grille, rear faux gas cap and trunk lid. Inside, Shelby GT-H logos are on the head restraint, sill plates and floor mats.
To hint at the 5.0 liter V8 engine's capabilities, the Ford Shelby GT-H is fitted with a unique Shelby-designed vented hood, carbon fiber front splitter and rear spoiler.
50 Years of Performance
The 50th Anniversary 2016 Shelby GT-H is packed with performance parts that embody the iconic Shelby design.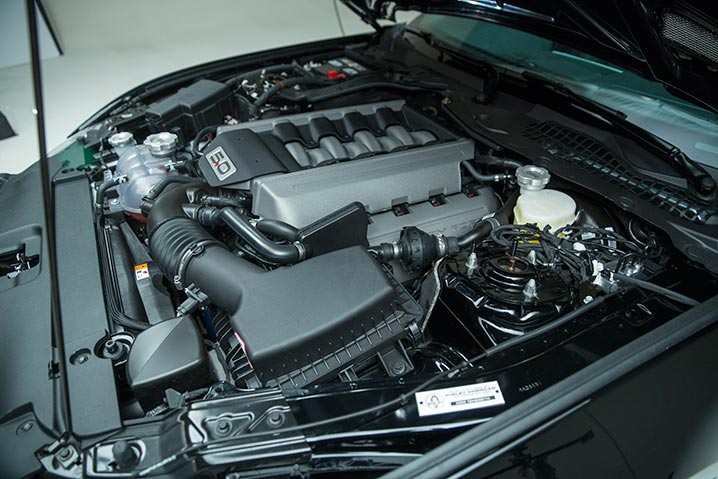 Ford Performance cat-back performance exhaust for that throaty sound that makes this car unmistakably a Shelby Mustang GT-H.

To put all of the horsepower to the ground, the Ford Shelby GT-H also comes with the Ford Racing Handling Pack, including special-tuned dampers, lowering springs, sway bars and a staggered wheel kit.

The Shelby GT-H rides on 19-inch aluminum wheels wearing high performance Michelin rubber.
Witness the build of a legend. Click here to watch the time-lapse build of the first 2016 Shelby GT-H.
2016 Ford Shelby GT-H Specifications:

Ford Performance Parts

Ford Performance Handling Pack

Ford Performance Cat-Back Exhaust with chrome tip

Staggered Wheel Kit

Tires/Wheels

Michelin Pilot Sport all-season tires 255/40ZR19 (front) and 275/40ZR19 (rear)

Matte black 19 inch wheels with GT-H wheel center caps

Exterior

Shelby Carbon Fiber Front Splitter

Shelby GT-H Polycarbonate Hood w/ Hood Vents

Shelby GT-H Upper and Lower Grille

Shelby GT-H Rocker Panels with Carbon Fiber Accent Plates

Shelby GT-H Rear Spoiler

Shelby GT-H Gold Striping

Hertz Front Fender Emblem

Powered by Ford Performance Emblem

Shelby GT-H Front Grille Emblem

Shelby C-Pillar Emblem

Rear SHELBY Letters on Trunk Lid

Faux Gas cap GT-H Logo

Washer nozzle relocation kit




To learn more about the 2016 Shelby GT-H, download the brochure.

Interior

Shelby GT-H Dash Plaque

Shelby GT-H Head Restraint Cover Set

Shelby GT-H Sill Plates LH/RH

Shelby GT-H Floor Mats

Engine Appearance

Shelby GT-H engine plaque

Shelby GT-H engine cap kit
Shelby GT-H News
News
Watch the Shelby GT-H 'Rent-A-Racer' on Jay Leno's Garage
One of the biggest names in show biz and car collectors in the world spotlights the famed Hertz Shelby GT-H "Rent-A-Racer" program in celebration of its 50th anniversary. Former Tonight Show host Jay Leno features the legacy and history of the program in a special web episode for his latest TV series Jay Leno's Garage.