MYER one

Earn MYER one Shopping Credits with Hertz
Hertz is delighted to be a preferred car rental partner of the MYER one affiliates program. Members earn 2 MYER one Shopping Credits for every $1 spent* on qualifying rentals at participating locations in Australia.
Simply select MYER one in the "Frequent traveller" section and enter your 16-digit MYER one membership number when booking online.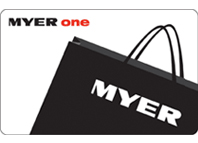 *Terms and conditions
To earn MYER one Shopping Credits with your Hertz rental, enter your 16-digit MYER one membership number in the "frequent traveller;' section when booking online. MYER one Shopping Credits are *Based on time and kilometre (base daily rate) dollar spend only. Does not include dollar spend on taxes, fees, surcharges or additional extras, etc. Excludes wholesale voucher rentals, points/miles redemption, staff and complimentary rentals. Shopping Credits cannot be earned in conjunction with any other loyalty or points programs. To earn and redeem MYER one Shopping Credits, you must be a MYER one member. MYER one membership and Shopping Credit earn and redemption are subject to the MYER one program Terms, available at https://www.myerone.com.au, as amended from time to time.