An exciting way to make your next rental
Hertz Mystery Vehicle

Looking for a new and exciting way to rent your next car? Why not choose the Hertz Mystery Vehicle?

Enjoy a competitively priced modern vehicle with all the quality and features you've come to expect from the premier Hertz fleet.

Our mystery cars can range anywhere from Economy sized Hatchbacks to 8-seater People Movers, Full-Size Sedans to Utility vehicles and everything in between!

Although you won't know the exact vehicle model you'll receive at the time of rental, you can be certain that you'll get a high-quality vehicle with the same great Hertz customer service.

Curious? Choose the 'Hertz Mystery Vehicle' next time you need to hire a car.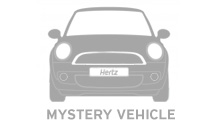 *Terms and Conditions apply
Available only from selected locations around Australia at selected times. Cancellation charges apply. Hertz Mystery Vehicle cannot be used in conjunction with any other discount. Car will be any car as selected by Hertz from Hertz collection of vehicles. Vehicle will range from compact to 8-seater people movers to utility vehicles.  Vehicles will not require any special license qualifications to be able to drive.