Services for the Physically Challenged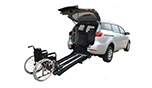 At Hertz Australia, we want to make your rental experience as easy and convenient as possible. If you need additional information or assistance, please ask a Hertz representative.
 
Wheelchair Accessible Vehicles in Australia
Our new mobility rental fleet, giving you the freedom and flexibility to get around.
Exceptional wheelchair user comfort, space and visibility
Wheelchair access at the rear of the vehicle plus 5 passenger seats
Easy to use and operate with demonstration provided by Hertz staff
All vehicle conversions comply with all Australian Standards
Wheelchair access vehicles are available upon request in Melbourne, Sydney, Brisbane and the Gold Coast.
Please call 1800 801 122 to make a direct booking.
For more information, please click here.
Drivers for the Blind or Physically Challenged Australia
Drivers for the blind or physically challenged who hold a valid driver's license and are at least 25 years of age may drive a Hertz car rented by the person for whom they are driving. Such drivers are considered to be authorized operators under the terms of the Hertz Rental Agreement. When reserving a car, you must advise Hertz that you are visually or physically challenged and that you will be renting a car and providing a licensed driver. You must also be present at the Hertz counter at the time of rental, and complete an Additional Driver Agreement (ADA) form. 

Toll-Free Reservation Numbers
Hertz reservations for cars anywhere in the world are made by calling a toll-free number.
 
For Australia reservations: 13 30 39
For International reservations: 1800 550 067